Step by step image progression
Click to enlarge the image – use your browser back key to exit image
How to display Work Orders
Contents:
Selecting the Work order table from the Log in Dashboard
General layout of the work order table
How to filter and sort in the work order table using column heading names and +FILTER icon
How to select to view only open work orders
How to select workorders to print a work order list or a full work order
To how view work order result codes, and failure code explainations
How to view the qucik link to a work order inspection procedure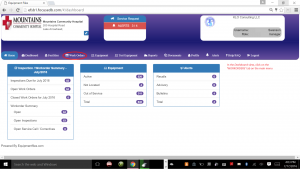 Works Orders are displayed in a spread sheet format. One row is one record,
To sort and filter your work orders use the links as indicated in the image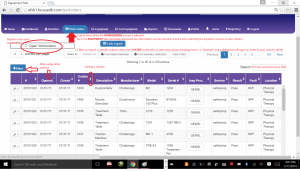 How to Filter and Sort for a specific device using column headings – A dialog box(es) will open up for data entry

How to Filter using the '+FILTER' icon to open up multiple dialog boxes for sorting several fields to narrow down searches.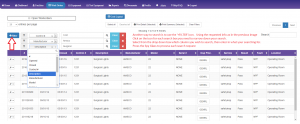 To view only open work orders, select the indicated link and it will display open work orders in pink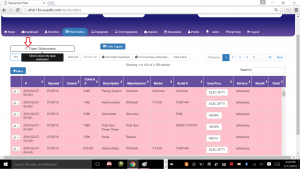 To view work order(s) reports selcted them with your mouse left click.  Selected records will be displayed as blue. Chose one or many.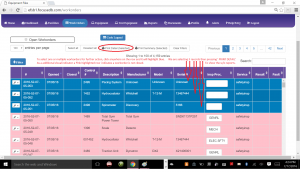 After the records are selected, additional action can now be performed. In this example 'Print Detail' was selected to print out the actual report.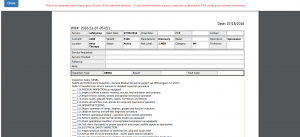 The "Tool Box' on the left most side of the record can be opened to provide more options.
The 'Print" option serves the same function as "Print Detail'  button in the center top.  'Notes' allows one to enter notes on the workorder without having to open it up.

This next image show the report for "Print Summary" with all records that are selected.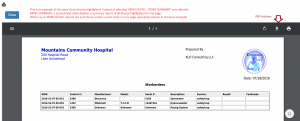 For your viewing pleasure, one may choose the 'Code Legend' to view what the 'Result Codes' and 'Fault Codes' mean.
Work Orders are assigned 'Result Codes' when the service has been performed.  'Fault Codes' are assigned for tracking and sorting of any failures
The 'INSP PROC' row is a quick link to the inspection that is used on the device wirhout having to open the work order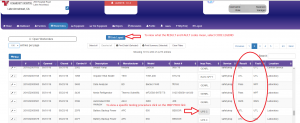 Image of 'Code Legend'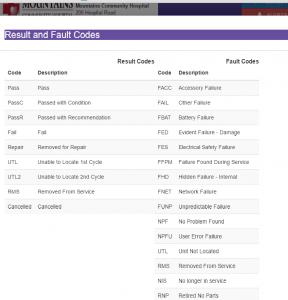 Image of 'INSP PROC' inspection procedure quick link